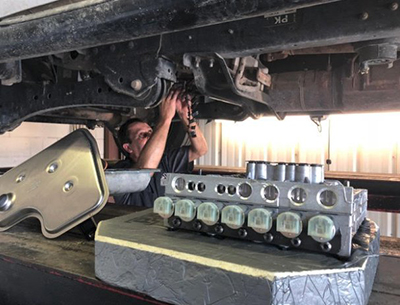 Do you suspect that your vehicle has a major transmission issue? Are you dreading having to research transmission repair options? And, what about how much money the transmission repair is going to cost? Are you also wondering if your car or truck's transmission is even worth repairing?
If you're asking yourself those questions, you are not alone and we understand your possible stress and confusion. After all, transmission repair is a costly investment that you are making into your vehicle. Transmission repair is incredibly complex and requires a proper diagnosis from the get-go or else you could open yourself up to huge levels of frustration.
At Circle D Transmission, we are here to guide you through the transmission repair process so that you can make an informed decision. In the end, with the correct information and knowledge, you'll be able to understand your options and the associated costs behind transmission repair so that you can make a decision that is best for your situation.
So, let's break down the different repair options when it comes to transmission repair. There are two main options nowadays if your transmission requires rebuilding. You can have your transmission rebuilt by a local facility or you can replace it with a remanufactured transmission. While either of these options can provide you with a quality transmission, there are pros and cons to each.
Let's start by mentioning the benefits of each option.
One benefit of rebuilding your transmission is that we are able to upgrade parts that frequently fail with high mileage and/or have aftermarket updates. At Circle D Transmission we have decades of experience rebuilding transmissions and we can ward off future issues by replacing/upgrading parts that are known to fail. A benefit of replacing with a remanufactured transmission is that the turn-around-time is typically much faster than rebuilding since the transmission that we purchase is already built and waiting on the shelf of one of our suppliers.
Now, let's move on to discuss warranties. When we rebuild your transmission here at Circle D Transmission, the typical warranty that we offer is 2 years or 24,000 miles, whichever comes first. Warranty issues must be brought back to us at our location in Houston, Texas. If you replace it with a remanufactured unit, the warranty can go up to 3 years or 100,000 miles, whichever comes first. Remanufactured transmissions typically offer a nationwide warranty. Both warranties typically cover parts and labor. So, if you are planning to keep your vehicle for many years and/or travel out of the greater Houston area often, you may want to consider a remanufactured transmission for greater peace of mind.
You also need to consider if your vehicle's transmission is worth fixing. When clients bring this valid question up to us, we urge them to assess the rest of the vehicle. If the rest of the vehicle is in good working order then it probably makes sense to invest in the transmission and have it rebuilt or replaced. If you go to trade in a vehicle with a malfunctioning transmission, you're going to take a fairly substantial hit in the value of the vehicle -- one that is likely equal to the cost of repairing the transmission. Other costs associated with purchasing a new vehicle are:
Depreciation of the new vehicle

Unless you pay cash, you will have a monthly payment with finance charges

Taxes and fees paid to purchase the new vehicle

Additional insurance costs on the new vehicle
Are you thinking about buying a used vehicle instead, so that you don't have to take out as large of a loan and can factor in less loss due to depreciation? Think again... you could possibly be buying someone else's problems... including a malfunctioning transmission in the near future. By keeping your current vehicle, you know the service history, so you're less likely to have a surprise.
If you allow Circle D Transmission the opportunity to earn your trust, we assure you that we will provide you with ample information upfront so that you can make a decision that makes sense for you now and years down the road!
So how much does it cost to repair or replace a transmission? The average cost to rebuild or replace with a remanufactured unit is $3,000 - $5,000.
For an estimate, call 713-895-7019 or click here to schedule an appointment.